Andyb2

Add Andyb2 as a friend

Andyb2 will be notified and will have to accept this friendship request, to view updates from Andyb2 and their ratings you must follow them.

Remove Andyb2 as a friend



About me
Much appreciation for the online puritans who work to keep me in line.
About my collections
Various collection of sci-fi & horror DVDs & books, as well as some dramas & comedies. Books on spirituality, science, psychology, social-political-philosophy, general philosophy, A large number of CD's. Mostly various styles of Rock'n'Roll.
Lists
Recent reviews

Posted : 7 years, 8 months ago on 30 January 2016 02:23 (A review of
Purson
)
There is a magic place where folksy warmth meets lurid technicolor horror, where progressive rock complexity and all out skull-crushing doom combines with classic songwriting to flesh out a sinister but romantic vision of twisted dreams and lurking threats hidden just out of view. That place dwells in the debut album by Purson. The Circle And The Blue Door finds the missing link between Pentangle and Pentagram, by way of David Bowie's dream reality and The Beatles' feel for the perfect melody. And while it owes a debt to front woman Rosie Cunningham's clear love of the late 60s and the early 70s, it is her poetic, evocative lyricism, tight song craft, sonorous vocal style and dedication to deep musicality that takes this wonderful album far beyond the waters of pastiche. Only an original mind could come up with a line like "ex dwellers of Spiderwood Farm, though they live here, they mean you no harm" — and set it against a mellotron solo. "Spiderwood Farm is about ghosts," says Rosie. "I was looking through a copy of Sounds from 1972 when I saw a band mentioned called Spiderwood Farm. From there I thought of a song about ex-dwellers, who are, of course, dead. The council are trying to evict them, but they're not doing anything wrong. They're just hanging about." There are not too many 21-year-olds out there who are familiar with the early 70s golden age of satanic flute rock, when bands like Coven and Black Widow terrified Middle England with slow yet ominous odes to the devil, all the while dressed like sociology lecturers from the Open University. But Rosie Cunningham has gone her own way from a young age. Rosie grew up as a child obsessed by The Beatles. "For me, they are music," she says. "I liked all the usual pop things my friends liked, but my real love was The Beatles, The Faces and Led Zeppelin, which they didn't like." The other key influences are Slade and David Bowie. "Slade is a much underrated group, with a collection of perfectly crafted pop songs. Bowie is one of those people you can listen to forever and keep on hearing new things. I love all of his classic albums, but I'd have to put The Man Who Sold The World as my favorite. Tragic Catastrophe" — the final song on The Circle And The Blue Door — "takes a lot of inspiration from Bowie." Rosie was 16, and already an electric guitar virtuoso, when she left her native Southend to pursue music, forming the short-lived Ipso Facto in London. Dubbed The Female Horrors for their Gothic take on psychedelic rock, Ipso Facto split when Rosie realized people were more interested in the way these four pretty, heavily stylized teenage girls looked than any actual sound they might make. "We were getting a bit of hype, but it wasn't what I wanted and I didn't feel ready for it. Everyone told me I was doing the wrong thing by splitting the band but it felt like something was happening that I didn't ask for; that we were being taken advantage of because we were so young. And I didn't have the sophistication to make the music I wanted to, even if the ideas were there. It's taken this long to get it right." After various aborted attempts to start another band, Rosie met Ed Turner, former assistant to Liam Watson at Toe-Rag Studios, multi-instrumental virtuoso and fellow enthusiast of the more arcane corners of early rock. So begins the story of Purson. "We fell in love within five minutes," says Rosie. "It was very romantic. I left my boyfriend, who I had been with for four and a half years, to be with this guy I had only just met. We dropped the rest of our lives to be together, writing loads of songs and forming the ideas for Purson along the way. Ed gave me the confidence and studio know-how to do what I wanted to do and it was so appealing and so natural; it was confirmation that I was on the right track." The intensity of the relationship, however, proved impossible to maintain. "Ed is a genius. I've never met anyone like him. But he's also deeply complicated. Within a week of us living together I realized we couldn't live together and it spiralled out of control, but that's not to say that great things didn't come out of it. Ed's no longer in the band but his contribution to the album is significant." Ed left half way through recording and moved to Wales, but his imprint is marked: the incredible riff to Spiderwood Farm is one of Ed's, while The Sailor's Wife's Lament, a beautifully melancholic ballad augmented by seagull cries and whirling organs, is about the year and a half he and Rosie spent together. "A lot of my songs are fictionalised versions of real events," she says. "That one is about waiting for Ed to change." The band is now in a stable place, with Rosie's childhood friends Sam Shove (keyboards) and George Hudson (guitar) making ever-greater contributions to the Purson philosophy and aesthetic. "We've been through everything together, we've been sharing musical discoveries since we were kids. Now Purson is our shared vision," she says. Barnaby Maddix on bass and the Colombian drummer Gomez complete the line-up. Influences may be rooted in the classic period of late 60s / early 70s rock, but the lyrics reflect a young woman's vision of the world. Rocking Horse is about retreating into the innocence of childhood, although in Rosie's hands this takes on a sinister edge, with lines like: "in our own secret garden we play, I the spider and you the fly." "It's about remembering childhood in a hazy way," she explains. As for the Bowie-esque Tragic Catastrophe, it describes her dreams of being a rock star and feeling like a girl out of time. "It starts with me as a kid, going through my dad's 70s music magazines in the attic and being fascinated with these people, and wondering how on earth I could ever do guitar music today." She answers her own question with The Circle And The Blue Door, a fantastical rock classic with its own vision and purpose. And there are subtleties. Purson, named after the great god of Hell, may evoke the color-saturated English countryside of early 70s Hammer Horror movies, but they do so with Beatles-esque sophistication, baroque charm and minor key reflection. The Circle And The Blue Door proves that those impossible dreams of the little girl in Tragic Catastrophe weren't so impossible after all.

0 comments,
Reply to this entry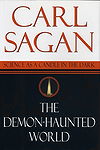 Posted : 11 years, 5 months ago on 26 April 2012 08:21 (A review of
The Demon-Haunted World
)
Carl Sagan was Professor of Astronomy and Space Sciences and Director of the Laboratory for Planetary Studies at Cornell University. He played a leading role in the Mariner, Viking, and Voyager spacecraft expeditions to the planets, for which he received the NASA medals for Exceptional Scientific Achievement. Dr. Sagan received the Pulitzer Prize and the highest awards of both the National Academy of Sciences and the National Science Foundation, and many other awards, for his contributions to science, literature, education, and the preservation of the environment. His book Cosmos (accompanying his Emmy- and Peabody Award-winning television series of the same name) was the bestselling science book ever published in the English language, and his bestselling novel, Contact, was turned into a major motion picture.

0 comments,
Reply to this entry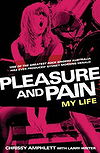 Posted : 11 years, 7 months ago on 26 February 2012 11:00 (A review of
Pleasure and pain.
)
Chrissy Amphlett is a legend in the world of Australian music and now, she tells her own story. From growing up in Geelong, Victoria, to being the lead singer in the iconic band The Divinyls, to living in New York and mixing with the likes of Keith Richards and Mick Jagger, she has led an amazing life. In this book she gives a unique account of a woman surviving in a male-dominated and drug-fuelled industry.

0 comments,
Reply to this entry
Movies
TV
Music
Books
DVDs